Compared with cigarettes, electronic cigarettes have less side effects, so its best use is to quit smoking and reduce smokers' dependence on cigarettes.
How to quit smoking with the electronic cigarette VAPE
In order to use VAPE to quit smoking on your own without relying on medicines or doctors, what points should you be careful about? In this paragraph, we'll also give you tips on how to quit smoking and how to succeed.
The secret to successful smoking cessation
It is difficult to quit smoking just by switching from cigarettes to VAPE. In order to increase the success rate of quitting smoking, it is important to know how to use VAPE well. From here, let's take a look at the secrets to successful smoking cessation with VAPE.
Find your favorite liquid
VAPE liquids are sold in countless types by domestic and foreign manufacturers. With a wide range of choices, it's highly likely that you'll find the liquid you like. If you can find a liquid that seems to be more delicious than a cigarette, the distance to successful smoking cessation will be greatly reduced. Also, in order to search for liquids efficiently, it is important to use a VAPE specialty store where you can try and smoke products. It's a good idea to find a store that has a wide selection of products and professional staff who can give you advice. For example, ihave vaping comes in more than 10 flavors per model, including fruit flavors like watermelon, apple, grape, peach, and even tropical flavors, plus we have classic flavors like menthol and tobacco. ihave vaping has always strived to satisfy all customers preferences and will keep launching new flavors in order to help each customer find their preferred liquid.
Do not completely eliminate nicotine from the beginning
If you reduce the amount of nicotine you take from the beginning to zero, the reaction will be great and you will tend to reach for cigarettes. First, supplement half of the cigarettes you smoke in a day with VAPE, and as you get used to it, gradually reduce the number of cigarettes and finally aim for nicotine zero, so that you can move to VAPE without stress. Also, some smokers habitually smoke even though their bodies don't really want nicotine. In such cases, you can expect a great smoke reduction effect just by changing the amount you smoke in your habit to VAPE. When you go out, take measures such as carrying only VAPE as much as possible, and reduce the amount of cigarettes little by little without overdoing it. People who smoke cigarettes often hear that it is easier to quit smoking by first shifting to heat-not-burn tobacco and then switching to VAPE, so why not try a step-by-step approach to quitting smoking? Is not it.
To be satisfied with zero nicotine
After successfully using VAPE to gradually reduce the amount of cigarettes, the next step is to make a complete transition to VAPE and reduce the amount of nicotine you consume to zero. Besides, zero nicotine has been trending now all around the world, ihave vaping also offers nicotine-free options in all models. The chances of a successful quit smoking increase if you have the knowledge to be satisfied with VAPE without taking any nicotine. From here, let's take a look at the tips for satisfying with VAPE with zero nicotine content.
Increase the amount of smoke
Enjoying a rich taste by generating a small amount of steam with VAPE is called suitable smoke, while enjoying a large amount of steam itself is called explosive smoke. Even if it is not a vape, you can feel a firm suction even with a nicotine-free VAPE by setting a large amount of steam. The amount of vapor can be changed by factors such as the resistance value of the coil inside the atomizer and the component ratio of the liquid. Also, if it is a technical mod for beginners, it is possible to change the amount of steam by adjusting the voltage and power.
Choose a liquid with a firm throat
The throat you feel when you inhale the vapor is also very important for a smooth transition from cigarettes to VAPE. When you inhale the smoke of a cigarette, you will feel a nicotine-derived stimulus called a throat kick in your throat. If you can experience a similar feeling with VAPE, you can say that it is easy to switch from cigarettes without feeling stress. Former smokers often choose tobacco flavors for liquids that taste similar to tobacco. However, it is said that it is the menthol flavor that you can actually feel a firm throat. Menthol flavors are especially popular, and the variety of products makes it easy to find your favorite taste.
Why VAPE is good for smoking cessation
There are several reasons why VAPE is said to be suitable for smoking cessation. In this paragraph, I will explain three reasons in detail.
The amount of smoke can be adjusted
With VAPE, you can adjust the amount of steam according to the settings of the main body and the components of the liquid. First of all, the atomizer of VAPE has an air passage hole called air flow, and the amount of steam can be adjusted by the size of this hole. Not all atomizers have adjustments, but larger holes produce more smoke and smaller holes produce less. If you are worried about the surrounding eyes if there is too much smoke when you smoke outside, it is a good idea to set the hole small.
As for the coil inside the atomizer, the lower the resistance value, the higher the electric power and the more steam is generated. If you use VAPE for vape, it will consume more liquid, so it is recommended to choose a larger tank to store the liquid. In addition, one of the characteristics of vegetable glycerin, which is one of the components of liquid, is that it increases the amount of vapor generated when heated. If you want to use it in a blast, it is a good idea to choose a liquid with a high proportion of vegetable glycerin.
You can choose your favorite flavor
In the VAPE industry, various domestic and foreign manufacturers are competing to release unique liquids one after another. There are a wide variety of liquid flavors, and there is no end to the list of typical ones, such as tobacco, menthol, fruit, sweets, and drinks. The characteristic of liquids sold by overseas manufacturers is that there are many products with rich and solid taste. On the other hand, domestic manufacturers tend to have many flavors with a delicate taste that suits the taste of Japanese people. The best way to enjoy flavors is not only to find an existing flavor that you like, but also to blend multiple flavors. It will be fun to create only one original flavor in the world from an infinite number of combinations.
Recommended VAPE for smoking cessation
Everyone has different preferences for vape, with different preferred shapes, flavors and nicotine content. In this paragraph, we will recommend three vape products.
For a maverick who is pursuing a stylish VAPE
The TTZO is introduced as a special model for those who are pursuing a stylish VAPE model. TTZO has a special angular design, with a metallic outer shell that is edge-breaking, delivering an attitude about uniqueness and self-expression. One of the most special features is the red burgundy mouthpiece, which is quite different from the black mouthpieces on other VAPEs. The disposable vape TTZO carries 600 cigarettes and 2ml e-liquid, 450mAh battery and 10 different flavors, including popular flavors like Pink Lemonade, Strawberry Ice Cream and Tobacco.
For those who want to enjoy a lot of smoke
Spino is recommended for those who want to be a 'cloud vaper' because it offers puffs up to 4000 and also giant clouds while vaping. Spino is the latest product released and designed by IHAVE VAPING, which has gained a lot of good reviews at the very beginning. Spino carries a 12ml e-liquid, 650 mAh rechargeable battery, and five different colors with 10 flavors including lush ice, grape soda, tobacco, and passion fruit lemonade. What's more worth mentioning, Spino is using mesh coil which can deliver a smoother taste and a better user experience.
For those who want a vape in a portable design
WIZA was the vaping model launched by ihave vaping in November 2021, which attract people's attention with its unique design and gorgeous gradient colors. If you have ever watched the movie 'Harry Potter', you must know that WIZA has a similar outlook as the magic wand in the movie, it has smooth lines and a slim body. WIZA is portable and light-weighted compared to other vape products, it's easy to go for everyone. WIZA can offer puffs up to 600 with 2ml E-liquid and 450 mAh battery inside, it has 10 different flavors for customers to choose from, such as apple pie, avocado yogurt, and coconut ice cream.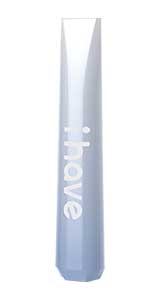 Let's try it at IHAVE VAPING, a VAPE specialty brand
If you are considering quitting smoking with VAPE and are looking for a VAPE brand whom you can feel free to consult, you should try IHAVE VAPING, a VAPE specialty brand. By utilizing the latest technology and market insight, ihave dedicates to becoming the e-cigarette brand that knows the customers best. ihave will be offering the best vaping choice and excellent user experience for customers. And we value every incomparable customer. ihave vaping now has more than three VAPE models with more than 35 flavors for customers to choose from. In addition, all the products we handle are genuine products that have passed our strict safety standards, so there is no need to worry about being caught by fake or inferior products.
Find the electronic cigarette VAPE that suits you and quit smoking !
For those who have been associated with cigarettes for many years, it's no wonder that quitting smoking requires a great deal of preparedness and stress. First of all, why not get your favorite VAPE at IHAVE VAPING and take the first step to quit smoking.